Solid Gong stands
Give your Feng / Tam Tam Gong the right frame, which also represents something visually and in terms of proportions.
Strong veneer pellets provide the right hold.
Finally a gong stand without "creaking and squeaking". Massive gong stands made of wood, which can also be swivelled and transported, even for several gongs. Screws, for the firm hold, are invisibly recessed and do not disturb optically.
Very nice to play "standing up" or at the height of the sound couch / massage bench adjustable.



For 80's and larger gongs on request.

winged gong stand is like an altar easy to open.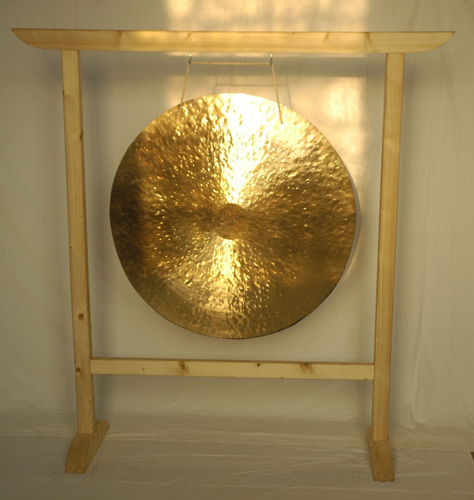 What other sound colleagues say about the gong stands ...
Katharina von Gagern
https://www.homoeoklang.de/home.html
Beautiful, multi-part, high gong stands for 6 gongs were built by Andreas. They are a jewel in my practice sound room. Very stable, flexible to set up, with desired dimensions, and absolutely noiseless when playing, nothing loosens. I have experienced other things before. I would like to enrich my sound work with instruments from his production if my space allows it. I have looked at them and heard their sound in the workshop. It is a dream! Not only the sound, but also the workmanship, the warm and beautifully crafted wood makes these instruments an experience, a real feast for the eyes and ears. Andreas, I know where I can find you, if a body monochord or a sound tube can be added to my room to enrich my sound work. Thank you also for the fair prices, the competence and the love for everything you finish.


Gong workshops I can recommend......
Csongor Kölcze https://www.klangurlaub.de/Klangurlaub.html
Katharina von Gagern https://www.homoeoklang.de/home.html
Gong`s, in all sizes and for trying ......
Simon Hauber https://www.klangschalenwelt.de