Woodworking and instrument making
Quality does not come from nowhere.....
As with cooking, the ingredients are also decisive for high-quality instruments. Structured working method of sound furniture production - from correct storage to fine sanding and surface refinement:

I.
Selection of wood
For all instruments only selected, local and long stored woods are used in my workshop.
Here you can already make the preselection of the woods, with regard to sound characteristics and their colour structure, which are suitable for your instrument should be used.
Should it be rather deep bass tones or very rich for overtone sounds. These questions will be clarified in a preliminary discussion with you. In many publications, the woods and their special sound characteristics are richly documented and can be read about.
II.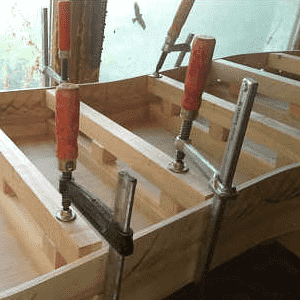 Woodworking and design
The soundboards are glued from solid spruce, pine, larch or Douglas fir. Fine-grained wood with standing annual rings reproduce the optimal sound. Precious woods such as beech, cherry, maple, oak and walnut are used for the sides, end blocks and bridges. No multiplex boards are used, because I am of the opinion that the sound is in the massive resonance body longer and clearer. Which also confirms my experience and the resonance of my customers.
Monochords and sound couches are not only "simple sounding bodies", but have a lot of know-how inside. Last but not least, the statics are also decisive. Carrying capacity and vibration ability must be tuned to each other in order to guarantee the necessary sonority

III.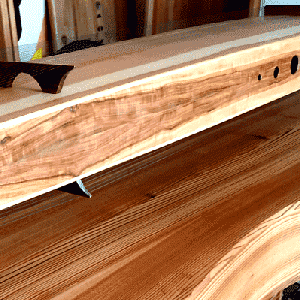 Surface finish and polish
Since the end of 2018 I use a new surface finish:
Natural oils and waxes refine the texture-rich surface with their own charm and character. The combination of natural resins pleasantly underlines the tone colour of the raw wood without narrowing the resonance band or damping the amplitude. You will look in vain for these properties in modern industrial coatings. A wax layer at the end refines the final surface treatment. This type also has numerous advantages for you. For one, it is still "easier to care for" and the breathability of the wood is guaranteed.
IV.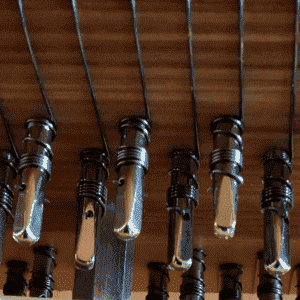 Strings and tuning:
Stringing and tuning the instrument is a philosophy in its own right and has a lot to do with mathematics and bridge spacing. Röslau - steel strings give the instruments the typical overtone-rich and characteristic sound. Depending on which sound you prefer, thinner or stronger strings are strung. Thinner strings can vibrate somewhat more freely and give a little more brilliance in the overtones. Stronger strings provide the so popular low, bass tones. Of course both types can also be combined can be used.
Last but not least, of course, the joy and care that goes into the making of my instruments. You will feel this and hear it in the sound.




craftsmanship and attention to detail are my first priority
Production and further development in our own workshop guarantees you a high quality of the final product.
The instruments are made to customer specifications and therefore have no bearing marks.
A processing time of up to 4 weeks, depending on the instrument, must be taken into account.
Experience and test the instruments in a relaxed atmosphere in my studio with the possibility of Consulting and sale of sound furniture.
I look forward to you.
Woodworking and own workshop